Junior golf lessons at Chichester golf club in West Sussex 
      Our experience in coaching 6 Young County and one young England player lets us adapt the structure for the junior players as well as for the individual.
      Our goal is to give the juniors a supportive and safe environment to grow in confidence, knowledge and expertise of the game under our coaching and instruction.
      We believe that golf can be a great foundation to help each child grow life skills and build character.
      We believe that juniors learning experience must be fun and positive for them to get the most out of each coaching session.


Junior Weekly Roll Up
 Start, Learn ,Play!
       We are running fun, relaxed and informative Junior Roll-Up Sessions every Saturday at 1pm-2pm at Chichester Golf Academy.
       All ages and abilities are welcome to join or fun, game based sessions that teach the fundamentals of golf for little minds.
       Not only is it a great introduction to this great game it also provides opportunity to work with other children and make lasting friendships.
You'll learn all you need to know about playing golf
Getting ready to play
Putting
Short game
Full swing
Playing round a course
Fitness
You'll take part in
Fun based games and challenges
Competitions and festivals
       Every Saturday 1pm-2pm at a cost of £7.50 per child per session, sign up sheets are situated on the driving range or-
For more information please contact;
Iain on 07753 807158 or email 
iainnaylor@hotmail.co.uk

Junior Golf Camps
     We are running a series of fun and informative holiday golf camps over the February Half Term for Juniors of all ages and abilities.
      Each day will include fun competitions, Long and Short game skills and other aspects of the game and provides all important playing lessons on the course to allow the juniors to really put into practice what they have learnt.  Snacks and drinks will be included on the day.
 Refreshments included
Awards and prizes presented.
Great outdoor pursuit.
Provides lasting memories and friendships!
We provide the following options and dates
Week 1 (Wednesday 12th, Thursday 13th and Friday 14th April)
1 Half Day- £25.00 (9am-12pm) or  1 Full Day- £45.00 (9am- 4pm- lunch included)
2 Half Days- £45.00 (9am- 12pm) or  2 Full Days – £85.00 (9am-4pm- lunch included)
Week 2 (Tuesday 18th and Thursday 20th April)
1 Half Day- £25.00 (9am-12pm) or  1 Full Day- £45.00 (9am- 4pm- lunch included)
2 Half Days- £45.00 (9am-12pm) or 2 Full Days- £85.00 (9am- 4pm- lunch included)
Book now to attend one of our upcoming golf camps or email mark@markwoodgolfacademy.co.uk
 Junior Champions Programme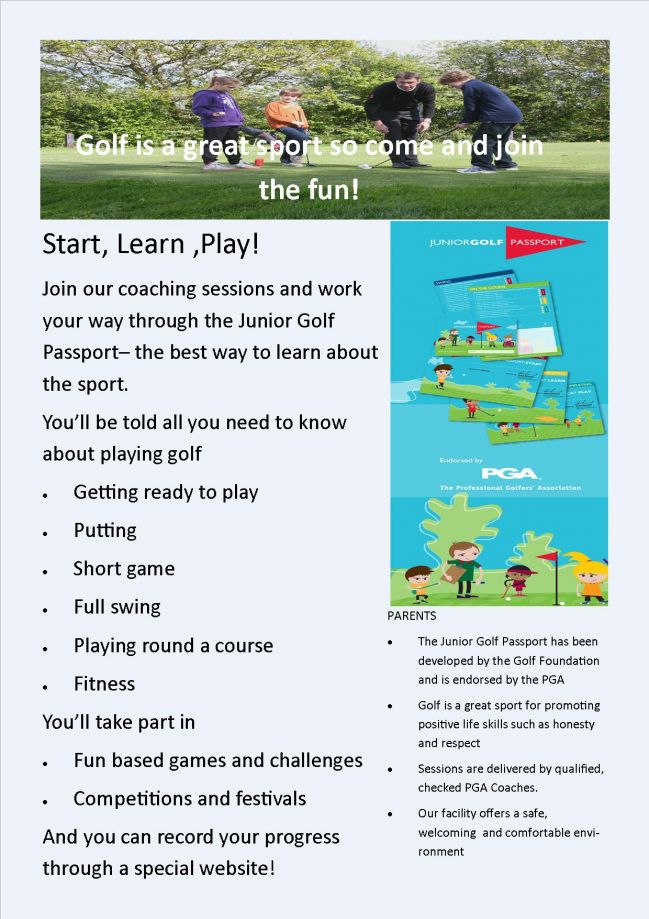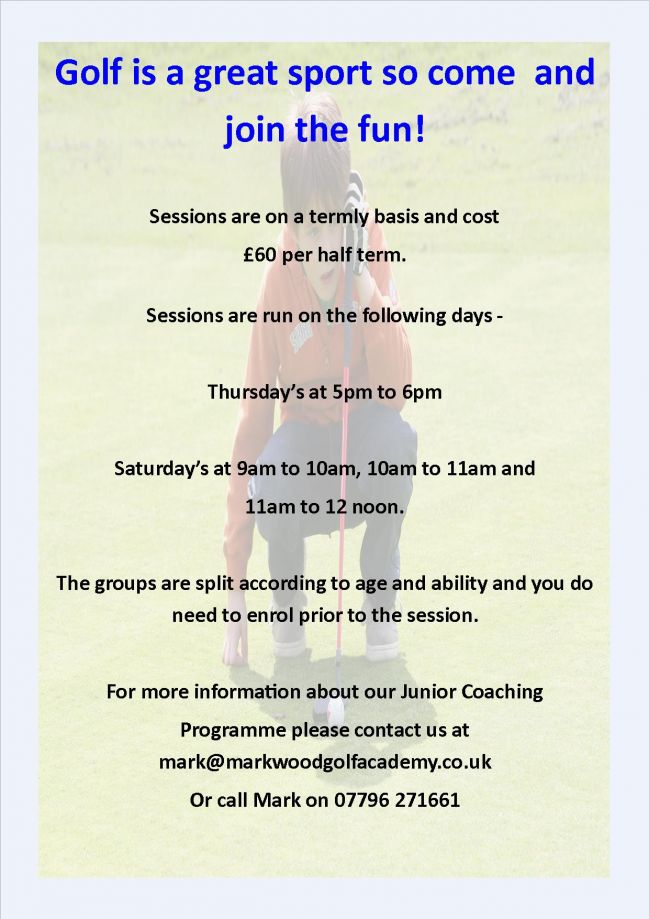 Junior Birthday parties
        A wonderful place for a really unusual birthday treat!
        We are very flexible in what we supply, meeting your wishes as far as possible, and give Juniors a great golf themed party they'll love and remember!
Includes Food and CAKE!
Golf instruction, on and off course
Equipment lent if needed
Swimming included if required
Competitions, certificates, Prizes and Fun all included.
Please contact me for a tailor made quote.